Cafe Rīga
Café "Rīga" at Melbourne Latvian house is the center of activity in the Melbourne Latvian community. This is the place where you can spend some time away from the hustle and bustle of everyday life in a light and welcoming environment with a modern and Latvian flavour. Spend some time with friends, savour some Latvian food, Latvian beer or stock up on some produce from Latvia.
Short video on how to make pīrāgi (Nov 2020)
The café is open on Saturdays from 10.30am to 3.30pm, when children attend the Melbourne Latvian primary and high schools. The schoolchildren enjoy the freshly baked pīrāgi and sweet maizītes (pastries) and soft drinks while their parents have a cup of coffee and purchase products from Latvia such as rye bread.
The cafe is also open before and after scheduled events at the Latvian House. The cafe is like a beehive – full of activity – which only adds to the atmosphere.
The cafe also has free wifi for customers if you want to spend some quiet time on the internet or plan to meet someone to talk business.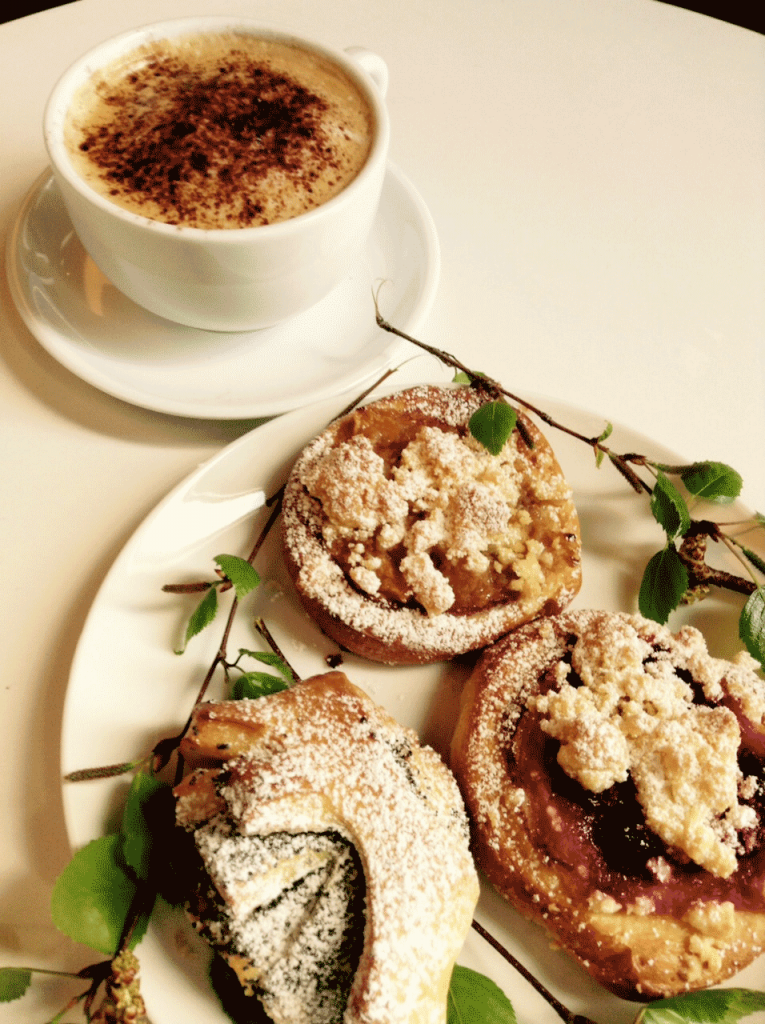 History of "Cafe Rīga"
The original café infrastructure dates back more than 50 years. Melbourne Latvian house architect, Mr Alģimants Pūpēdis, undertook the design of the original space at 3 Dickens St. to provide the Latvian community with a home in Melbourne. The original infrastructure had functioned well for half a century, but had aged and worn, the old floor was about to collapse and the original kitchen was no longer pleasant or safe to work in. In 2014, it was decided that Café Rīga was due for a major overhaul.
The 2014 renovation of Café Rīga was a major project, the end result being a space that is both pleasant to visit and work in, as well as being suitable for small events such as parties, lectures, meetings and presentations. If you are craving freshly baked pīragi (Latvian bacon buns), sweet buns or herring and egg open sandwiches, this will be the only place in Melbourne where you can savour these Latvian delicacies on a regular basis. The Latvian House ladies auxiliary can also serve you a warm lunch. How about some tasty cīsiņas ar skābiem kāpostiem (frankfurters with sauerkraut) or gaļas pankūkas (savoury meat filled pancakes) for lunch? Or perhaps a warming hearty soup in winter?
Come and visit us: have something to eat or drink, organise to meet your friends or use the free wifi to sit quietly and do some work. You will be warmly welcomed!
The café spaces and facilities are also available for hire. They are suitable for social events, parties, lectures, presentations and meetings, with seating for approximately 40-60 people. The spaces are heated and air-conditioned, the fully-equipped kitchen has a commercial dishwasher and a cool room. Crockery, cutlery and glassware are also available for hire. A large screen TV and sound system are available for presentations. Enquiries and pricing regarding facility hire should be directed to Henry Pacers (ph: 0417 561 703)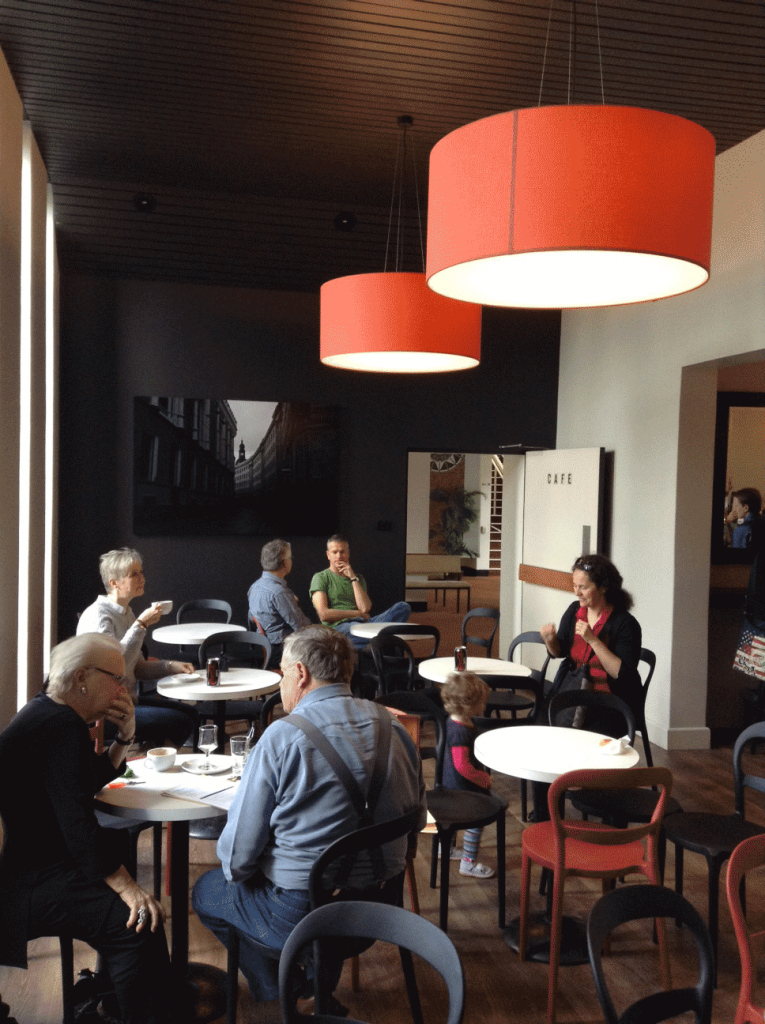 Ladies auxiliary/cafe workers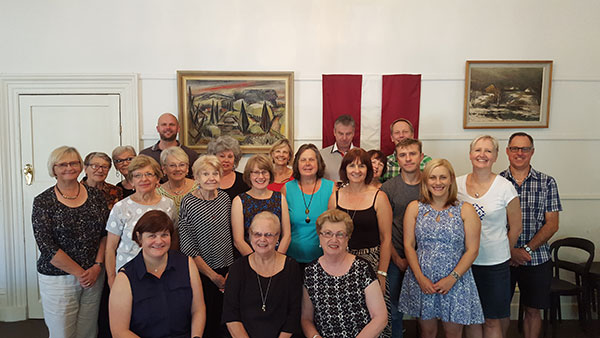 The ladies auxiliary (which also now has a sizable group of male volunteers), is a purely voluntary group that keeps the café running smoothly. Early on school Saturdays, the bakers are busy baking (and chatting!) in preparation for the influx of customers looking for their weekly pīragi and poppy seed bun fix.
The cheery cafe staff always greet customers with a smile and a chat. The Ladies auxiliary also includes the "papa dāmas" (men who are happy to serve customers), who are also voluntary helpers, just as the ladies in the kitchen.
If you wish to help with the running of the community center in a practical way, whether you are male or female, young or young at heart, consider joining the ladies auxiliary. To help behind the counter, contact Linda Drēziņa tel: 0424 448 358 or help with the baking. Co-opt some friends to keep you company or come and make new ones. If you have wanted to gain some insight into some traditional Latvian cooking skills, this is the place to be. Beginners are welcome, by the way!
Whether you are a worker or visitor, Cafe Rīga is waiting for you!