Film Club
Kino klubiņš (Film Club) is an event held at Latvian House, the profit of which all goes to Latvian House. Kino klubiņš for a few years now calls Latvian House – together with the recently-renovated cafe – its home.
The idea for Kino klubiņš came about to attract a different/new group of people, as well as make use of the main hall. To gather together a group of people for something new, provide a place where you can discuss Latvian films with each other. Cinema is like a window through which you can learn about different historical periods and cultures and also experience the joy of following the main characters and their lives. Cinema is a great supplement to books, it not only depicts what has been written on the page but also brings it to life making it an interesting journey and experience
Kino klubiņš founder and leader Petras Nesteckis and his helpers – wife, Gita, and daughters Evelīna and Emīlija – started up the club five years ago. The idea came to Petras while he was working on some renovations at Latvian House. "One fine summer's day in December 2010 I was sitting on the stage of the Latvian House and having my lunch – I was making some minor improvements to the main hall for the coming Cultural Festival in Melbourne. I was feeling a bit down as I knew that the hall had been hardly used and the white screen that had been set up just before the Culture Festival – I didn't really know if it would be used after the Festival. I couldn't just leave it at that. I had a few ideas how it could be put to use. I wasn't the only one and so I discussed it with a few other like-minded people, spoke to the Latvian House leadership team and outlined a few of our ideas, including the idea of starting up a cinema club.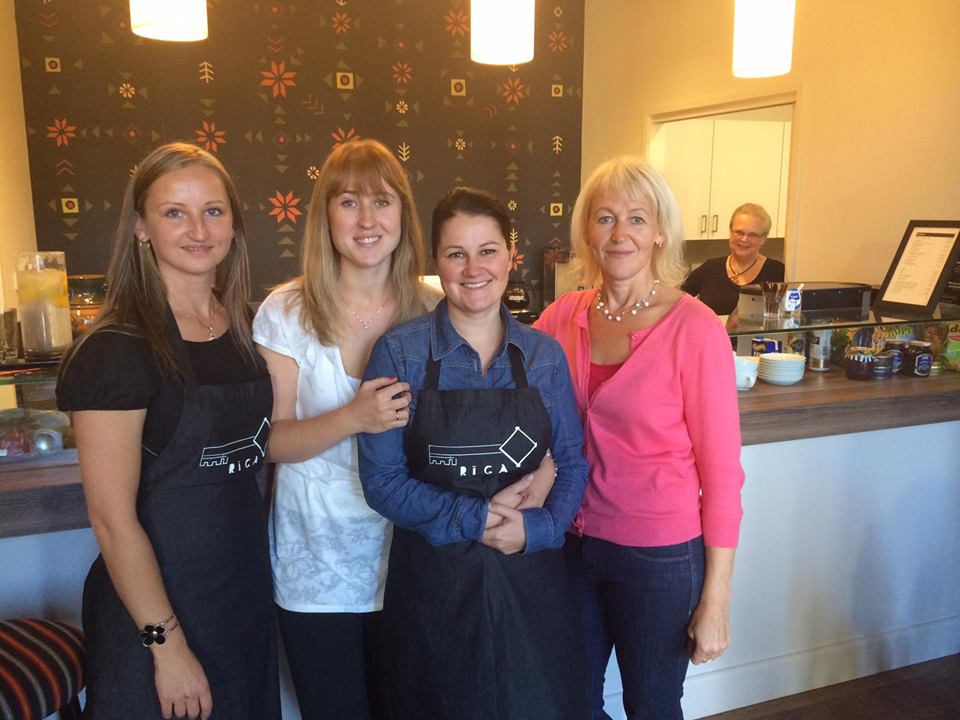 Soon after our conversation about film screenings at the Latvian House, Kārlis Kasparsons invited me to form a working committee for the screening of Latvian films. I agreed and in May 2011 the first movies were screened with the support of Melbourne Latvian House. These were documentary films: "Trejādas saules" (Three different suns) (2009) – director Jānis Ozoliņš-Ozols and director Juris Podnieks' film "Vai viegli būt jaunam" (is it easy to be young?) (1986).
So far there have been 16 Kino klubiņš screenings, with over 30 films of different genres screened.
It's important to mention that no screening would have been possible without our helpers, our volunteers. Kino klubiņš movie-goers have been able to enjoy a delicious home-made lunch. We usually make "Latvian-themed" meals. The Kino klubiņš team usually consists of 7-8 helpers.
Over the years Kino klubiņš has become popular and there is a loyal group of movie-goers that always asks what our plans for the next screenings are, when they will be scheduled. This year Kino klubiņš celebrates its 5th anniversary. Most of the films that we screened have been purchased in Latvia and mailed to Melbourne. Others have been donated to Kino klubiņš. Over the past 2 years Kino klubiņš has been working in collaboration with the Ministry of Culture in Latvia – some of the films that were screened have been sourced by the Ministry.
The average number of Kino klubiņš movie-goers is 25. The entry fee to the screenings is donated to the Latvian House. In this way our small team can support and make a small contribution towards the Latvian community in Melbourne.
You are all welcome at Kino klubiņš events in the future, come and enjoy Latvian films of different genres, have a delicious lunch before the screening or during the intermission. You will be able to discuss the movies with your friends and also may be get a surprise from the organisers!